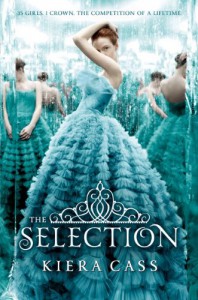 I never, ever read books in one sitting, but I couldn't put this one down. There's a blurb on the cover from Kiersten White that says something along the lines of "Charming, captivating, and the perfect amount of swoon." This could not be more true.
THE SELECTION follows America Singer as she leaves her home, and a secret relationship with a boy from the caste below her, to competes alongside 35 other girls for the heart of her country's prince. The book has been pitched as THE HUNGER GAMES meets THE BACHELOR, and I've seen some eyebrow raising in regards to this. Let me clear something up: In my opinion, this novel has the
feel
of HUNGER GAMES, in the sense that there are makeovers and interviews and coverage is broadcast across the nation, while the Selection itself leverages the
premise
of THE BACHELOR, with the prince dating, getting to know, and then "voting off" girls as he narrows them down to find his future wife (and queen). But this book is much, much more than just a mash-up of these two elements.
Underneath the competition we meet a young girl who is struggling to understand who she wants to become in a world that tells you who you are from birth (you are born into a pre-defined class, with career roles already established for you). It is also a story of young love, how your first love may be one you hold on to for longer than you should (because it
feels
right), or how you should truthfully never let it go (because it
is
right). I loved America's spunk and confidence. And I loved watching her journey, especially her ever-changing opinions regarding Prince Maxon. I'm excited to see what everyone else thinks of this novel come April. Personally, I thought it was enchanting.
Originally reviewed
here
NOTE: This review is based on an ARC